As the Qixi Festival is approaching, the Qixi Festival is organized by the Huashe Street Federation of Trade Unions, the Huashe Street Youth League Committee, and the Huashe Street Women's Federation, and is jointly organized by Zhejiang Jinggong Technology Co., Ltd. and the Upstairs Party Service Center-"Romantic Summer ·Love in the Chinese Valentine's Day" Friendship and Friendship Meeting was held in Dongfang Shanshui romantically. More than 40 outstanding single youths from Jinggong Technology, Huashe Street Youth League Committee and other organizations participated in this event.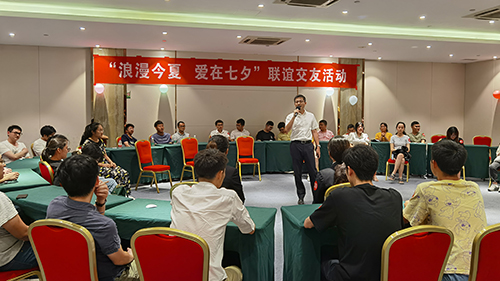 The sorority party kicked off with the sound of romantic and warm music. The event first entered the special ice-breaking link-a wonderful first impression. All single girls form an inner circle, and boys form an outer circle. They will introduce each other face to face within one minute. Single young people seize the opportunity to introduce themselves generously and express their views on mate selection. Every 1 minute, the boys get up and move one position clockwise and face the next girl. This cycle until the boys and girls get to know each other again, leaving a first impression of all the opposite sex present.
Afterwards, all the youths freely formed teams based on their initial impressions of each other, and performed a series of well-designed interactive team games such as shifting positions, passing paper cups with chopsticks, unlocking bracelets, one-word chess, and multi-player ballooning. Everyone helped each other and actively cooperated in the game, which further deepened their understanding of each other and spent a beautiful and pleasant afternoon together. The event site was full of a strong romantic atmosphere. After the game session was over, everyone recorded on the wish paper the candidates of the opposite sex who had a good impression and put them in the "Love Wish Bottle". According to statistics, in the end, two pairs of single men and women collided with the sparks of love at the scene. They successfully selected each other and luckily found the right "TA".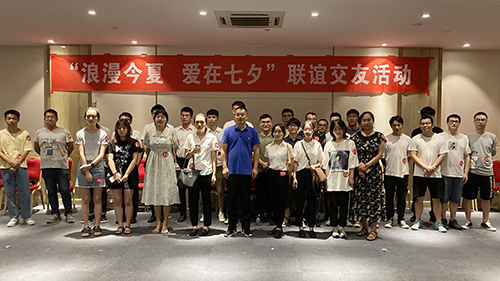 Our company actively undertakes this sorority meeting, aiming to provide a romantic platform for the company's large number of single young employees to cultivate sentiment, relax, meet destined people and enhance friendship and feelings, so as to enrich the amateur cultural life of single employees. In the next step, the company will continue to integrate internal and external resources and strengths, extensively carry out a series of employee cultural and sports services, do a good job in caring for employees, build a good corporate culture, and create a warm working atmosphere, thereby enhancing employees' sense of belonging, happiness and recognition sense.