From November 17th to 20th, the Fifth International Carbon Materials Conference & Exposition was held in Shanghai Convention and Exhibition Center of International Sourcing. As the largest carbon material exhibition in Asia, this exhibition is also an annual event in the field of carbon materials. Over 5000 representatives from more than 50 countries attended the exhibition, creating a comprehensive and cutting-edge exhibition in the carbon materials industry. As the chief designer and manufacturer of Chinese high-performance carbon fiber production lines, JGST was invited to participate in this exhibition.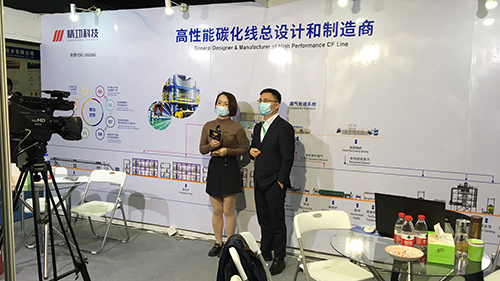 With the theme of "Gathering Global Forces and Sharing the Future of Carbon Materials", this exhibition brought together global carbon material industry giants, top scientific research teams, academic representatives and corporate representatives to share cutting-edge industry information. Together with Youth Scientist Forum, ten special forums and exhibition areas, including carbon fiber, carbon composite material, diamond, carbon-based film, porous carbon, silicon carbide devices, carbon-based energy storage, carbon nitride, fullerene and grapheme, were set up at the exhibition site to build communication bridges for enterprises and talents in the new materials field, discover and support young pioneers with scientific innovation spirit and future influence, and lay a solid foundation for the new materials field.
With years of active research and accumulated experience in the field of carbon fiber equipment, our company has now realized the domestication of the entire production line. At the booth site, our company arranged billboards and sample brochures for the 1,000-ton carbon fiber production line independently designed and manufactured, with detailed explanations by technicians, to display the details of the production line in all aspects. The annual production capacity has reached 2,500 tons, and the unit electricity cost can be reduced to 18,000 kWh/ton. The production line can reach up to speed of 16 m/min. and run for 60 consecutive days. All data have reached the international first-class level and it successfully attracted the attention of many clients and news media, receiving unanimous praise at the same time.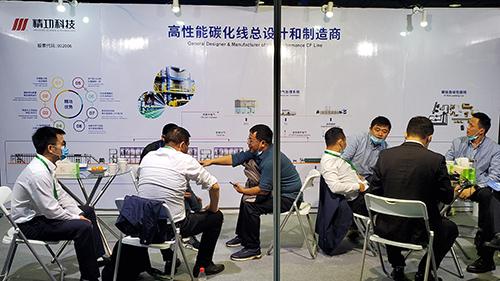 In the future, our company will actively optimize the carbon fiber production line to meet the development opportunities of emerging industries in the carbon era, strive to open up domestic and foreign markets, compete to become a leader in the carbon fiber equipment industry, help develop our national carbon fiber business, and jointly promote the prosperity and development of the carbon era.