On November 25th to 27th , the 9th Asian international building industrialization of construction exhibition was held in Shanghai national convention center. As one of the most influential business exhibition in China's construction industry, this exhibition takes building industry as the core, with "digital drives, industrial interconnection" as the theme, goes deep into industry, subdivides the market, key displays of precast concrete structures, prefabricated steel structure, prefabricated production line, construction metal containment system, heat preservation decoration integration and other exhibits, let the visitors zero distance to experience the frontier technology of China's construction industrialization.
25th in the morning, our company had "PC precast concrete components production line simulation model" at the booth. The simulation model image is clear, precise visually restored the original equipment, attracted many customers stop to watch and consult. At present, with the continuous development of construction technology, construction industrialization is the new trend of construction industry, the prefabricated construction also increasingly diversified development. Our PC precast concrete component production line is fit for the new trend of development of the building materials industry, to carry forward the new concept of green environmental protection energy conservation and emissions reduction.
Cooperate with our company technical personnel's commentary, visitors learn more that the precast technology is an efficient method of construction of resource, it can reduce resource consumption, shorten the construction period, create more profit and achieve better quality. And our PC precast concrete components production line also has the advantages of mass production, the best control, high efficiency, high degree of automation, etc. Visitors praised our company product performance, and highly affirmed our leading position in the field of prefabricated construction, on-site negotiation atmosphere was very warm.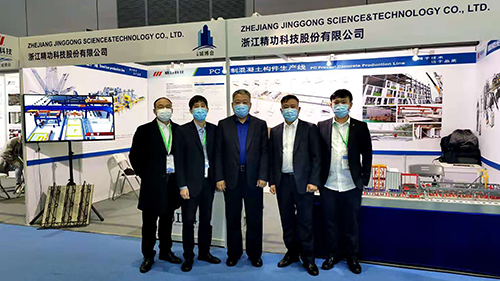 In this exhibition, our company staff promotes our products and company brand, in the same time also collected the new and old customers' valuable suggestions in product optimization and innovation. We also have more comprehensive understanding of the latest developments in the industry, friendly exchanges and discussion with industry peers made us very fruitful. In the future, our company will continue to follow the green building trend of transformation, optimization of new energy-efficient building special equipment technology, improve product quality, strive to become the pusher of housing industry upgrading.