On December 12, 2020, President Xi Jinping announced at the Climate Ambition Summit that by 2030, China's carbon dioxide emissions per unit of GDP will drop by more than 65% from 2005, and non-fossil energy will account for 25% of primary energy consumption. Around this time, the forest stock volume will increase by 6 billion cubic meters over 2005, and the total installed capacity of wind and solar power will reach 1.2 billion kilowatts.
This important speech once again stimulated the market's attention to clean energy fields such as wind and solar power, especially in the field of wind power. And in just 10 days, China announced that the carbon fiber project will have a production capacity of about 45,000 tons. To compare, as of December 31, 2020, the effective domestic production capacity of carbon fiber was only about 17,000 tons, relying heavily on imports.
As an indispensable new strategic material for our country's economic development and national defense construction, carbon fiber has been in strong demand in wind power generation, aerospace, sports and leisure, and rail transit in recent years. This year, it has been in short supply for nearly the whole year. With the continuous breakthrough of equipment technology and the continuous promotion of subsequent applications, the entire carbon fiber industry chain has entered a virtuous circle from raw materials to preparation, from process to products, completely getting rid of the previous loss of money, and emerging in the market. Outstanding enterprises like GW Compos, Jilin Carbon Valley, Sinofibers, Zhongfu Shenying, Jilin Jinggong and others have emerged in the market.
In the early days, the shortcomings of domestic carbon fiber production mainly remained in the two aspects of raw silk and equipment. Nowadays, the quality of domestic raw silk has improved by leaps and bounds, which can meet the needs of different grades of carbon fiber in many fields and even export overseas. However, although the equipment started early in China, the quality is relatively uneven, and there is still a certain gap from the international first-class, especially the core thermal equipment required for carbon fiber production lines such as pre-oxygen furnace, low-temperature carbonization furnace and high-temperature carbonization furnace. Although these thermal equipment have long been under the export control of Europe, America, Japan and other countries, the entire import process is very complicated. Most mainstream manufacturers still choose to import from abroad, which indirectly leads to the very long construction period of domestic carbon fiber projects in recent years, and some for more than 2 years, some even stagnated. According to the current international situation, it is believed that foreign export controls on our core areas will exist for a long time, and the independent localization of carbon fiber equipment is imperative.
Under this background and consideration, JGST established a carbon fiber equipment branch in 2013 on the basis of years of research and development and production of thermal equipment such as photovoltaic crystal growth furnaces and sintering furnaces, and subsequently established the Chinese textile machinery industry. Carbon fiber equipment product research and development center, specializing in high-performance carbon fiber production line turnkey projects and upgrading projects. Up to now, JGST has successively completed the upgrade and transformation of one 500-ton carbon fiber production line and the turnkey project of four thousand-ton high-performance production lines. The thousand-ton production line (Figure 1 and Figure 2) has been identified by the carbon fiber review expert to the "International Advanced" level, and was awarded the title of Zhejiang Province's First Set, and also won the China Textile Industry Federation Science Progress Award.

(Figure 1)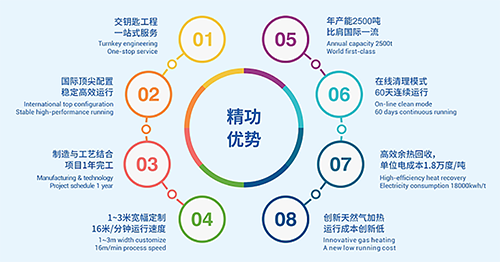 (Figure 2)
The thousand-ton line project delivered in 2020 is the latest 2500-ton 25K/50K large tow carbon fiber production line launched by JGST. It is customized for Jilin Jinggong Carbon Fiber Co., Ltd., and is the first domestic thousand-ton production line close to national production (Figure 3 and Figure 4). Except for the winding machine, the whole line is designed, manufactured, installed and debugged independently by JGST, including the yarn creel, the original yarn manipulator, the humidification system, the pre-aeration furnace, and the high-low temperature carbonization furnace, surface electrolysis machine, water washing machine, dryer, sizing machine, non-contact dryer, heat setting machine, thread separating device, driving device, steel structure platform, tension system, whole line control system, safety system, piping system , Waste gas treatment and waste heat recovery system, carbon thread automatic packing system, etc. In order to ensure controllable quality, JGST has a precision manufacturing company that has internationally advanced intelligent CNC machining centers, intelligent CNC laser cutting and welding production lines, intelligent CNC sheet metal production lines, intelligent automatic coating production lines and other machining equipment. Most parts of the line are processed and manufactured by our company. Because the whole line is designed and manufactured by JGST, it avoids the mutual interference and delay between multiple suppliers in the past when the whole line is assembled, and finally the production line is completed within 9 months after the project started and successfully running with full capacity at one time, while the domestic production cost was reduced, and it created the shortest construction period in the history of the production line with the same specification, which avoided a large amount of waste of carbon fiber and raw materials during the early commissioning period, and greatly improved the investment efficiency and market benefits for users. This project is not only the earliest start-up of many domestic carbon fiber projects launched in 2020, but also the only new production line that is put into operation in 2020. Its smooth driving also marks a way out for the long-standing predicament that domestic carbon fiber core equipment has been constrained by developed countries such as in Europe, America and Japan, and is another major milestone in the history of domestic carbon fiber equipment manufacturing.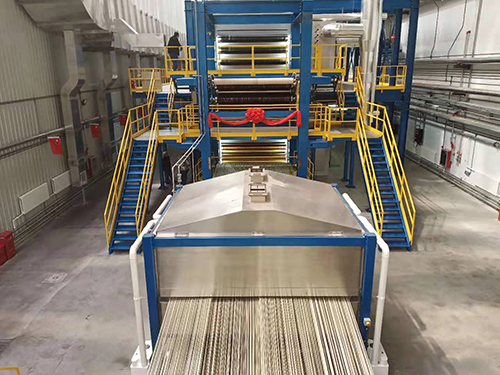 (Figure 3)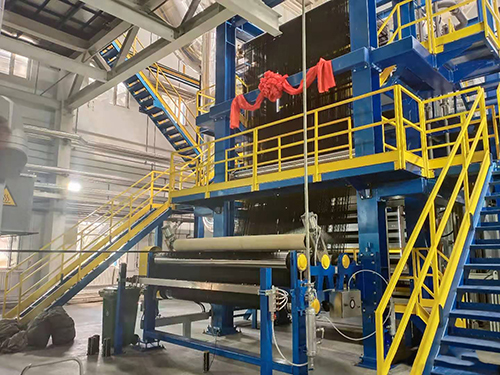 (Figure 4)
The actual operating speed of the production line is 16 m/min, and the annual output of carbon fiber is 2,500 tons.
In the view of JGST, although the production line has achieved localization, but in order to prevent from downgraded performance and configuration of conventional equipment after being localized in the past, the purpose of this localization is to reduce costs, save energy, increase speed and thread number. A substantial upgrade has been made on the basis of the 1,000-ton line earlier, and the configuration is consistent with the international first-class equipment, and successfully created the most cost-effective carbon fiber production line. The investment cost of the production line of the same specification is lower than that of the previous years with significant discounts, while production capacity and operating costs have been greatly increased. At the same time, the online application of a number of innovative cleaning technologies extends the single stable operation cycle of the production line, reduces the downtime rate and overhaul rate, especially the single operation cycle of the high and low temperature carbonization furnace can reach 60 days under full load conditions.
In addition to the 2,500-ton carbon fiber production line, JGST is also launching a customized production line according to market demand. The 1m wide 1K/3K/6K small tow carbon fiber production line currently under construction is even more high-end. What's more, JGST is currently preparing for the construction of 4 large carbonization lines in Jilin and the customization of large tow pre-oxidation furnaces.
While serving the domestic market, JGST has also changed the situation that carbon fiber core equipments are totally imported. In early 2020, it successfully completed the delivery of the pre-oxidation furnace supporting the 2,000-ton high-performance carbon fiber production line in South Korea. Its two key technical indicators ( The uniformity of wind speed and temperature) have reached the international first-class level. This multinational cooperation has also laid a solid foundation for JGST to build carbon fiber complete line projects overseas in the future.